Now You Can Be Your Own Boss, Own Your Own Business, Take Control of Your Financial Future, &
Start Earning $100.00, $500.00 Or More

PER HOUR

, While Having Fun in Show Business!
Want More Detailed, In-Depth Information On Any Of The Individual Entertainment Opportunities Featured In The Entertainment Career & Business Opportunities Directory?
Now that you've become familiar with the top entertainment career and business opportunities, you may have selected one or perhaps several opportunities that you would like to learn more about in greater detail. Actual detailed specifics about starting or establishing your own entertainment career or business right in your own area.

We have made it easy to learn more about each individual entertainment opportunity by creating our detailed InfoReport Manuals. These e-book resources allow you to research and understand each opportunity in greater detail providing you the information needed to allow you to begin your exciting new opportunities almost immediately. These methods are being utilized by today's working professionals. Each of the InfoReport Manuals offers insight, insider secrets and details that only come from years of in the industry, on the job knowledge and experience which, until now, have been closely guarded and confidential.
Individual Or Multiple InfoReport Manuals - Now Available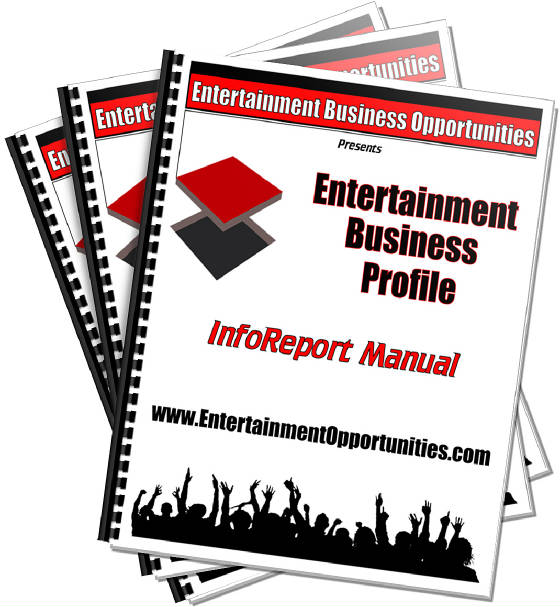 Get Detailed Professional Insight & Insider's Perspective Into The Specific Opportunities Of Your Choice

Each InfoReport Manual includes much of the following industry information:

Detailed Overview Of Each Specific Entertainment Opportunity
History & Origins Of How It Began & Evolved
The Current State Of The Opportunity Today
The Opportunity As A Job, Career Or Business Opportunity
Overall Business Analysis
Start-Up Info & What It Takes To Begin
Why It Is A Preferred Opportunity
Sample Income & Earning Potential
Sample Studies Of The Opportunity
Target Markets & Venues
Marketing & Promotion
Promotional & Business Materials Required
Growth Potential
Insider's Details & Perspectives
Forms & Contracts Required
Necessary Equipment, Supplies & Accessories
Industry Resources
Overall Rating Of The Entertainment Opportunity
Easy To Follow Step-By-Step Action Plan Of How To Start Each Opportunity
All of the InfoReport Manuals are categorized and listed separately. Each Manual offers insight, details and easy to follow, step-by-step methods to start a business or career in entertainment. Each InfoReport Manual covers an initial business overview, background and recent business analysis, start-up investments, necessary requirements, sample income and earning potential, required marketing and promotional materials, industry resources, a complete breakdown of why each is such a good opportunity, marketing and promotional strategies, and a step-by-step action plan to start your new career or business venture to allow you to begin your exciting new opportunity almost immediately. These outlines and methods are being used by today's working professionals. Each of the InfoReport Manuals offers insight, insider secrets and details that only come from years of on the job knowledge and industry experience which, until now, have been highly guarded and confidential.

Please use the following InfoReport Manual number(s) when ordering:
Magician #11

Stand-Up Comedian #12

Stage Hypnotist #13

Game Host Entertainer #14

Master of Ceremonies #15

Guest Speaker #16

Radio/T.V. Personality #17

Disc Jockey #21

Karaoke #22

Vocalist/Solo Musician #23

Small Musical Groups/Combo #24

Bands #25

Kid's Party Host #30

Kid's Musical Entertainer #31

Storytellers #32

Face Painting #33

Temporary Tattoos #34

Carnival Games #35

Kids Amusements/Rides #36

Inflatables/Jumps #37

Dress-Up Parties #38


Art & Craft Parties #39


Modeling/Acting For Kids/Teens #40

Clown #41

Balloon Artist #42

Caricaturist #43

Puppeteer #44

Mime #45

Juggler #46

Costume Characters #47

Celebrity Impersonator #48

Exotic Dancer/Stripper #51

Male/FemaleDance Reviews #52

Stripper-Grams #53

Adult Modeling #54

Full Service Entertainment Agency #61

Event Planner/Consultant #62

Celebrity Agency #63

Guest Speaker Agency/Bureau #64

Promoter #65

Promotional Event Model #71

.