RETURNING IN 2022!
Revised & Updated
Exciting Professional Training Program Shows You How To Properly Create And Establish An Entertainment Business And Operations To Get Started In The Exciting & Profitable Opportunities Available In Live Entertainment

Finally, a course dedicated to new or beginning performers, those interested in starting a performing or entertainment-based busienss, and to current performers struggling to achieve success, more bookings and greater prices and profits after realizing they don't have the business knowledge and skills to operate and compete in the entertainment market profitably.
Let's face it - most performers don't know or really like business operations. In fact, many dread it.
So many entertainers spend so much of their time and efforts on getting their performance ready, then begin to market for bookings, that they overlook the many important elements needed in between their performance and marketing efforts. The elements include having the proper business foundation, structure, and operational system in place to properly present and sell their services, for the highest possible closing ratio of inquiries, to generate the greatest profits from each booking, and to position themselves for rebookings and referrals executed by creating a success formula.
The secret many experienced entertainers know that new or beginning performers have yet to realize is...
Success Is Created In The Business Behind The Performance!
Regardless if you are a hobbyist or enthusiast just considering starting to perform for pay, a part-time performer that would like to make your performing a consistent source of income, or the expereinced performer who have just never put much thought or effort into the business aspects of performing who would like to take their performing business to the next level. Getting Started In Entertainment - The Entertainment Business Course will give each of you the knowledge, skills and tools to create your entertainment business properly on a predetermiend solid foundation based on your own individual needs and interests. Having the proper structure and system is most important to the success of any entertainment business today.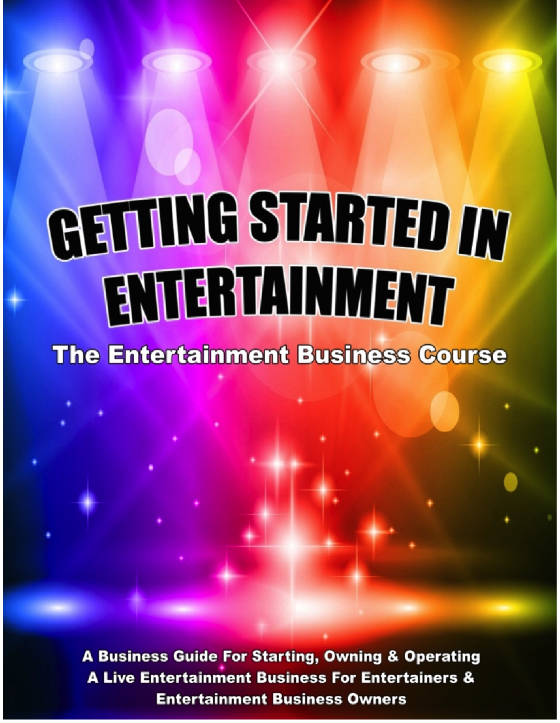 Online Training With Continuous Online Access & Support

For Beginners Or Performers Just Starting Business Operations

Start Part-Time Or Full-Time

Entertainment Education - Learning Industry Operations

Entertainment Business Vs. Conventional Business

Becoming A Professional

Establishing The Foundation For Your Success

Creating Your Goals & A Business Plan

Self-Discipline, Mindset & Motivation

Setting Up Your Entertainment Business

Being An Entertainer Or Just A Behind The Scenes Owner-Operator

Creating Your Performance - Entertainer Operations
Market Research & Knowing Your Competition

Establishing Your Entertainment Business - Getting Market-Ready

Creating Your Promotional Materials, Video, Website & More

Getting Started Today - The Step By Step Plan

Creating Your Business Operations

Creating Your Money-Making System

Getting Bookings - Marketing, Promotion & Advertising

The Performance - It's Showtime

The Future Of Your Entertainment Career & Business

Appendix - Forms, Contracts, Letters & Resources
& Much More
Getting Started In Entertainment - The Entertainment Business Course will give you the information, knowledge, skills and strategies that you need to know to create the entertainment business most appropriate for your type of performance or entertainment offering, your performance markets, and your specific business marketplace.
This 8-week educational training program will walk you through the entire creation process, step-by-step, in the proper sequential order to create your solid, legitmate busienss operation positioning you to create the best chance for success.
Learn The Step-By-Step System To Build The Entertainment Business Of Your Dreams Behind Your Performance Or Entertainment Offering
Yes, I am interested! Please sign me up to receive more information as soon as enrollment begins for the 2021 training!
Copyright 2011-2014 ERG/Ameritalent, LLC. All Rights Reserved